The Bitcoin Cash is a hard fork version of Bitcoin with better scalability, speed, and security. It happened when the community wanted to make changes to the blockchain protocol, and they created a separate blockchain instead of implementing this change on the main net. BCH is the native coin of Bitcoin cash which is mainly used in retail transactions.
In 2017 many Bitcoin developers proposed technical solutions to support retail transactions. After that, they released a new version of Bitcoin software to process more transactions within a few seconds. Some Bitcoin Developers disagreed with this change, and a forked version was created.
We would advise users to use Bitcoin for bigger transactions because it is a time-tested solution, and for small transactions, you can use Bitcoin Cash.
Though Bitcoin Cash is getting popular, future growth will depend on its market adoption.
At the time of the ICO, all the Bitcoin users get the same amount of Bitcoin Cash in their wallets. BCH provided a good return after inception, and it has the same amount of circulation as Bitcoin.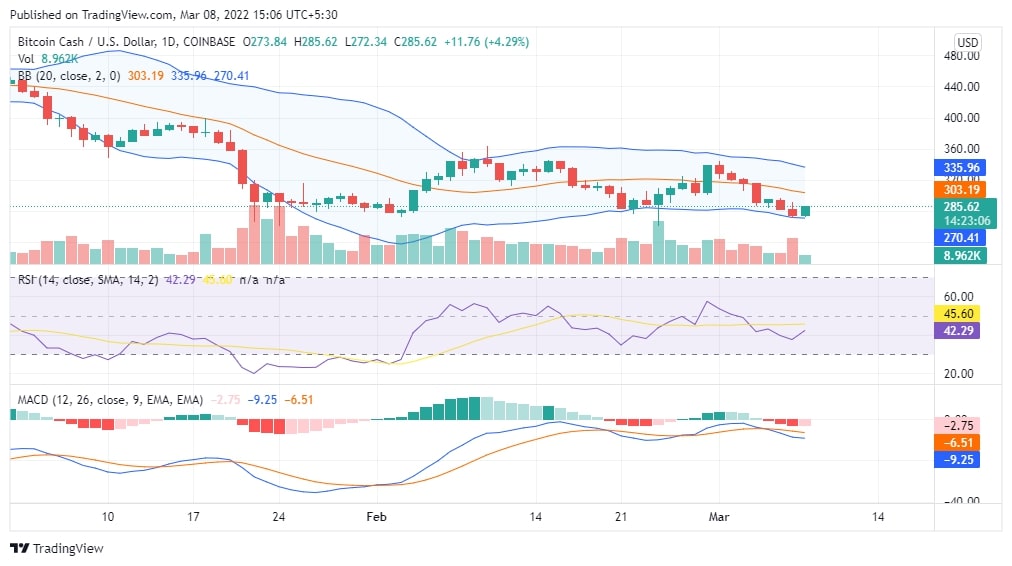 At the time of writing this post, BCH USD is trading at $285.59. Though today's candlestick is green, it is trading at the lower half of the Bollinger Band. On the daily chart, the MACD is bearish, and RSI is around 40.
We can find a sidewise movement in the range of $345 and $280. In this consolidation phase, we do not think it is the ideal time for investment. In the short term, the chart is bearish.
If you are thinking of a long-term investment, then you should analyze the weekly chart.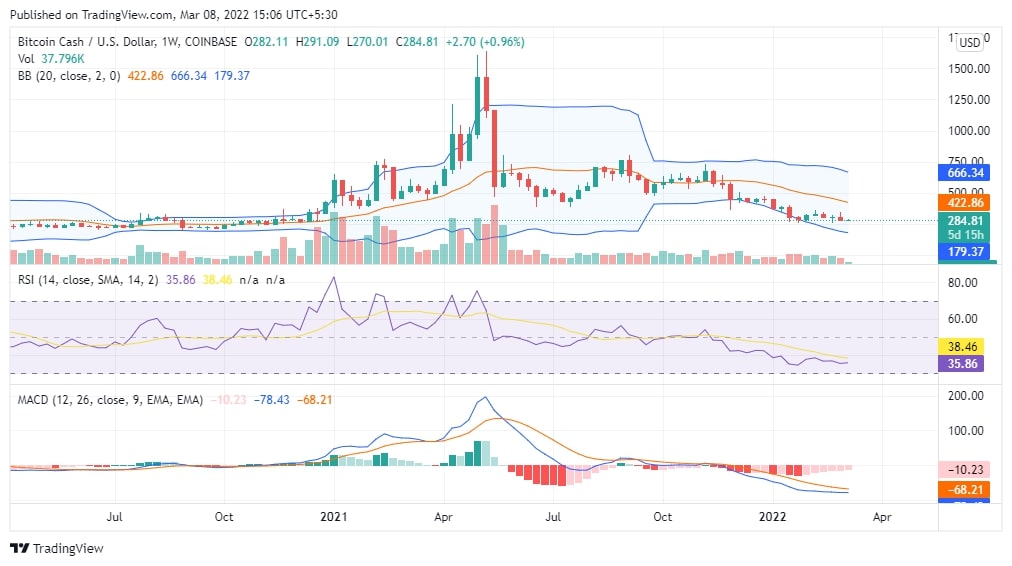 On the weekly chart, the price is trading around the support level of $280. Indeed, $700 is a strong resistance level of this chart. The MACD, RSI, and Bollinger Band reflect bearishness.
Based on Bitcoin Cash price prediction, It is not the right time for long-term investment as well because the chart is around the support level, and if it breaks the level, then we cannot identify the next support level.
If you have a deep fundamental understanding, you can accumulate some coins, but we would prefer to invest when it crosses the $700 level decisively. However, due to the US Fed meeting and various circumstances around the world, the price will be volatile, and it may change very soon. Please keep a closer eye on the price chart and do not miss the opportunity.