Ethereum Classic made its inception when the DAO or the Decentralised Autonomous Organisation was hacked. This DAO was a part of the original Ethereum, and due to this cyber hacking, a total loss of over 6.2 million Ether was incurred to its developers. This made a significant ground for the researchers to come up with more solid technology in combination with more apt security features of Ethereum. This gave rise to Ethereum Classic which is considered as the 5th largest cryptocurrency today. It helps in making smart contracts with no interference of third parties, and due to its striking embedded technology, the investors woo upon the prices of this crypto and decide for the right time to splurge in here for making a lucrative return on their investment.
Quick updates at a glance
ETC is currently valued at $4.24 USD (UTC time 11:26).
It is at the 18th position in the competitive cryptocurrency market with its market cap currently trading at $459,297,316 USD with 24h volume as $217,672,092 USD.
From its current resistance, it is seen that it has made a slight hike on its value so far its prices for the past days are concerned.
Price analysis of ETC on the basis of ETC chart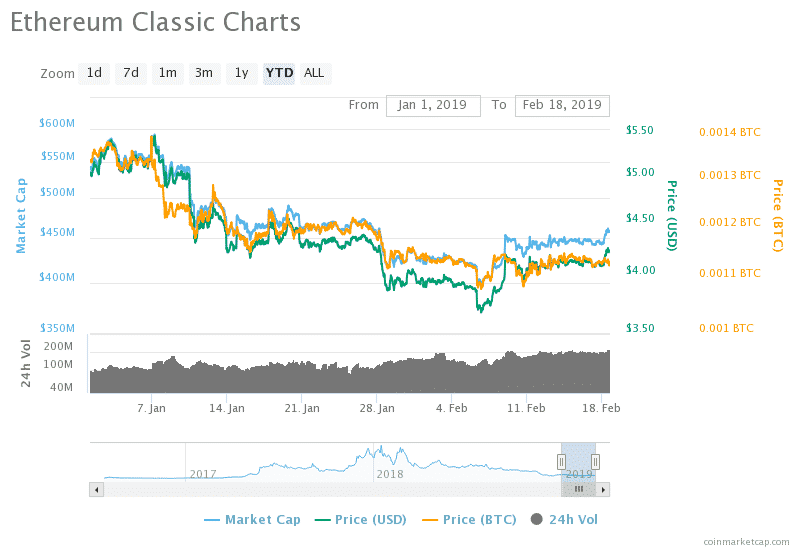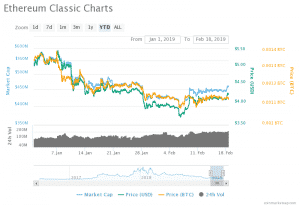 Considering the Ethereum Classic chart above, the current price of ETC is $4.24 or 0.00113221 BTC (UTC time 11:35). Its current 24h volume is 217,512,359 USD and its current market cap is 458,981,909 USD. So, for the price analysis, if the value of ETC of approximately one month earlier is considered, it can be seen that on 29th January 2019, its value was as low as $3.88 and it reached a maximum height of $4.00 that day. The value of ETC on 29th January was primarily around $3.88 so, analyzing this price difference, it can be said that ETC value has been raised by 9.27% today. The current price of ETC is the highest value noted till today in this month. Earlier, the price of ETC had been lifted to $4.10 or $4.11 but, it deterred down significantly to $3.88 or $3.90 on that particular day or next day.
What about the future predictions of ETC prices?
Considering the bullish trend concerning the current price of ETC, the cryptoanalysts are assuming that in the upcoming days, there can be a good turnover in ETC values if, this bullish trend persists. But, as earlier also, high volatility was observed so, there is no assurance of stability of ETC prices. Today's price range is $4.10-$4.24 which is pretty good, and on Feb 9, the value of ETC was $4.15 which acted as a good support level. The analysts are also assuming that by the end of this year, the price of ETC can spike up stronger. As per the Coinbase listing announcement, this crypto is a worthy contender, and this has given new hopes to the ETC community.
Summing up
Today's price range is undoubtedly giving positive hopes to both the crypto investors and the ETC community. After a long time, a bullish trend is noticed, and the cryptoanalysts and predictors have also predicted that by the end of this year, spending on this crypto can give bigger profits to the investors. The most notable thing that everyone should consider now is the extent of the volatility of ETC prices.