The Singapore-based company founded in 2016, Crypto.com, offers a wide range of financial facilities such as exchange services, prepaid cards, brokerage services, and many other features.
Last year, it launched a massive $100m advertising push starring Matt Damon, and following months, it has got a massive $700m deal with Los Angeles Staples sports stadium. It became the official cryptocurrency platform partner of the LA Kings hockey team and Lakers. It was originally developed by Monaco technologies as a medium of crypto payment, founded by Kris Marszalek, Rafael Melo, Bobby Bao.
Crypto.com works like a crypto bank. It offers five different VISA cards based on the users' stakes. Besides that, it deals with several big brands like Macy's, Airbnb, and many others to sell gift cards. Moreover, it also offers interest to users. The interest rate depends on the time frame and CRO of their stakes.
On their exchange, users can trade, store and save cryptocurrency. More than 70 cryptocurrencies are available for customers for trading and exchanging with CRO.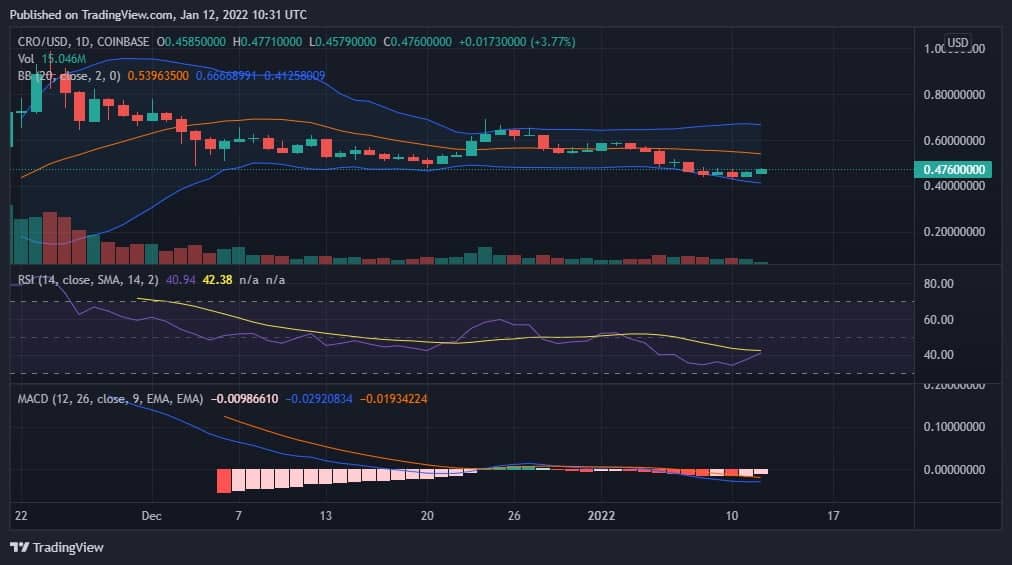 At the time of writing, the CRO price is around $0.47. Overall the price chart is bearish, but it has little trading history, so it is tough to decide the movement.
It has reached its high of $0.96; investors hope the coin will cross the range this year. However, on the downside, $0.43, $0.40 will work as support levels. The $0.63 level could work as a significant resistance level; Short term investors should take note of these levels.
It is tough to decide the direction of the chart; let's use some technical tools to find out the direction.
On the daily chart, MACD is bearish, RSI is also in the oversold zone, lower than 40. The popular combination of RSI & MACD reflects a bearish signal.
Bollinger Band lacks volatility, and candlesticks are forming in the lower half of the Bollinger Band. Many investors will think it will reach the baseline, but it will be a risky trade because the sentiment of the chart is bearish. 
Click here to know if it Is the right time to invest. Though Crypto.com is a reputed platform with a great future, it is still early to invest in CRO coin. If you are satisfied with the prospect of this coin and want to take the risk, then it is the ideal time for investment.