BNB is the native coin of the Binance chain. It powers the ecosystem and enables to pay transaction fees on the exchange. It was created in 2017 by the Binance network. It is a combination of two phrases Bitcoin and finance. It started in Hong Kong then spread to multiple locations around the world. As a native coin, it offers a 50% discount on trading fees. You can use Binance exchange to get the benefits. Moreover, many merchants accept BNB.
It was launched through ICO in 2017, but it is only a native coin of Binance, so investors cannot claim the Binance profits. BNB price is calculated based on the normal demand and supply of the coin. Binance Burn is a process of removing a coin from circulation, which increases the demand and controls inflation. Binance burns BNB every three months. Currently, the supply chain is more than 100 million, and it will continue the coin burn until the 100 million coins are left for circulation.
The Binance Smart Chain is similar to the Ethereum blockchain, and many DeFi projects have launched on this chain, overtaking Ethereum in daily transactions. As a result, the BNB price has grown 10x in the last couple of years.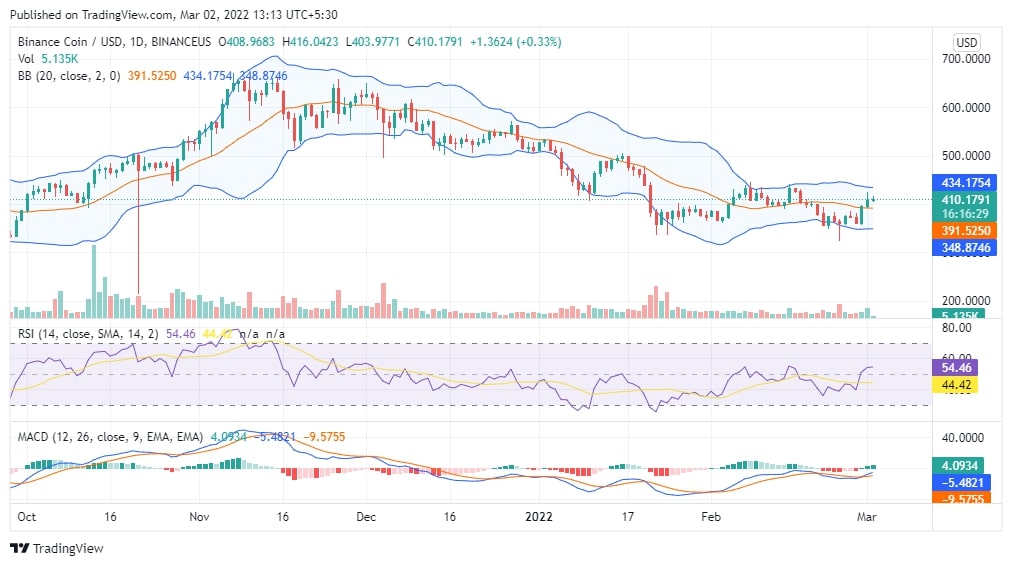 At the time of writing this analysis, BNB/USD is trading at $410. In the last two months, the price has been consolidating in the range of $350 and $430. If we look at the technical indicators, we get a clearer picture.  On the daily chart, the MACD is slightly bullish, the RSI is around 54, and the last two candlesticks are on the upper half of the Bollinger Band but around the resistance level. It means the price may come back to the support of $350 again as per the BNB price prediction.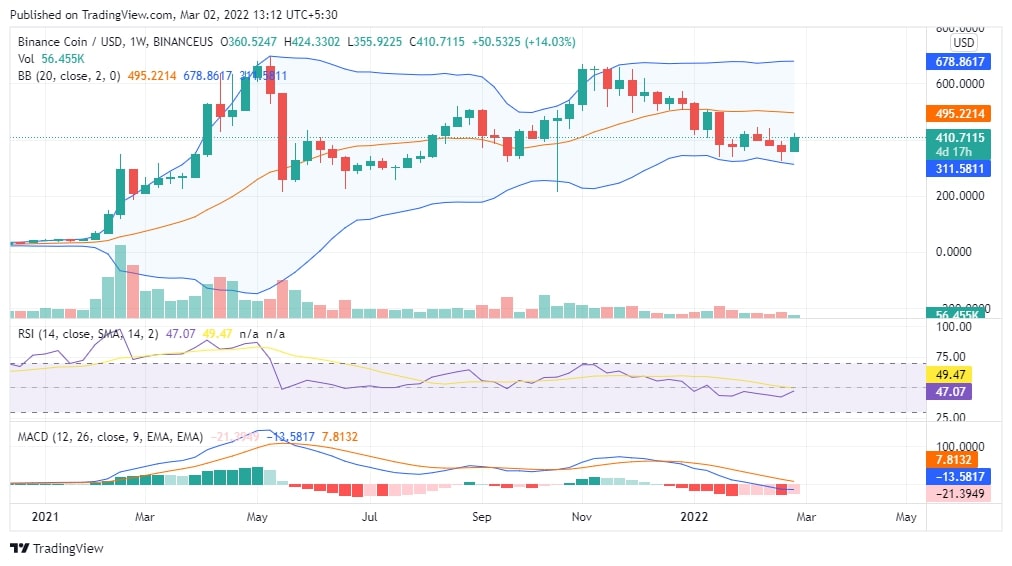 We will consider the weekly chart for more details on the long-term view. This chart confirms that the BNBUSD is bearish with a support level of $300. The RSI is stable, but MACD and Bollinger Bands reflect bearishness. The price will consolidate in this range, facing strong resistance at $600.
In our opinion, it is an ideal time to invest for the long term, but you should not invest here for short-term gain, especially in this consolidation phase. The price can be volatile this year.