Hedera Hashgraph is a decentralized application, and it gained worldwide popularity in the last couple of years. HBAR functions as a medium of exchange, a store of value with higher security. The network is not based on blockchain technology, but it can run smart contracts, including conditional transactions.
It uses a Hashgraph, a special type of ledger that records all transactions. It is the main reason behind the high bandwidth of this technology compared to Bitcoin or Ethereum, and it can process more than 10k TPS. Besides that, it also offers lower-cost transactions, which are as low as about $0.0001 per transaction.
Indeed, no Hedera-based crypto is in the top 20 lists, but it makes the token so special. If you understand the technology and want to invest in this coin, then it is a great opportunity in the long term. It does not have a higher market cap like Bitcoin or Ethereum, so that it can be volatile in the short term. However, HBAR is not so popular as Cardano or other Ethereum based cryptocurrencies. Still, once corporates build more projects on HBAR, it will become more popular as per the HBAR price prediction by experts, and the price will rise eventually.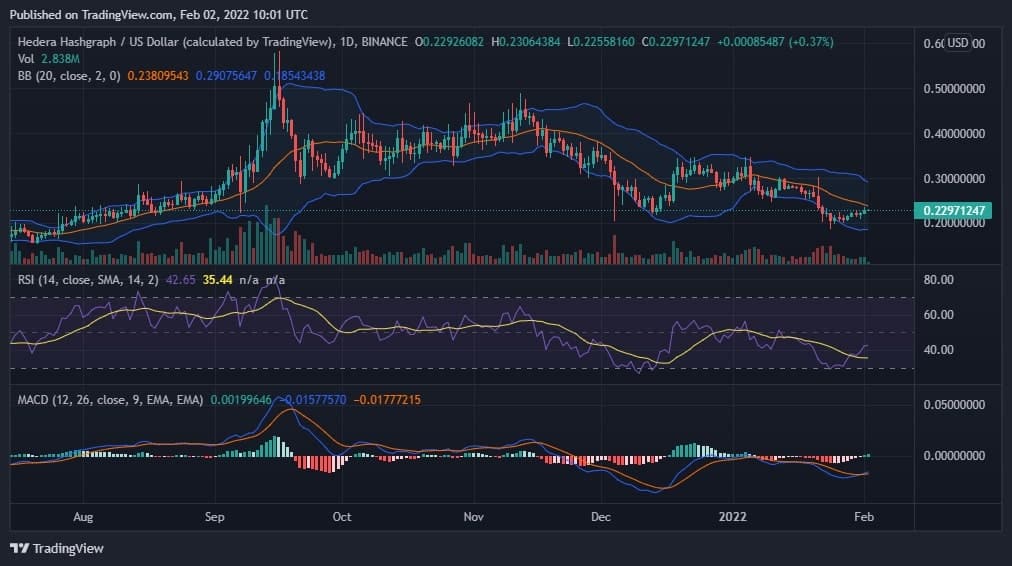 While writing, the price is $0.229. The chart looks great, with higher highs and higher lows on the weekly chart. However, it seems like HBAR will be in a consolidation phase. We will analyze the daily and weekly charts to analyze the short and long-term views.
On the above price chart, the MACD reflects a bullish sign on the daily chart, while RSI is also strong above 40. However, the candlesticks are in the lower half of the Bolling band but around the baseline of it. In the short term, it may take a bullish momentum, but is it sustainable growth? Let's see the weekly chart.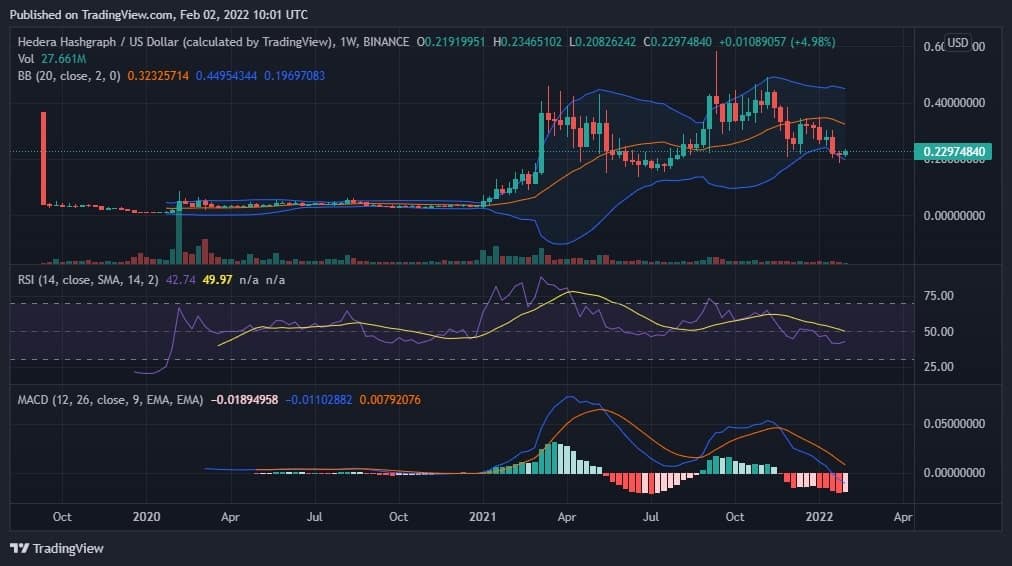 On the weekly chart, it is around the support level, and we think it will trade around that level until the middle of the year. After that, it will break either resistance or support level to make a permanent move.
MACD is very bearish on the weekly chart, while RSI is stable at around 40. The chart is good for long-term investors. We think the token has the potential to change the world, even beat Bitcoin and Ethereum. However, the authority needs to popularize the token more in the global crypto market. Based on HBAR price prediction, we do not recommend this coin for short-term investment. The price is low, and if you accumulate some tokens early, you will get a good return in the future.